Sherlock writer Steven Moffat hopes for 'nice' critics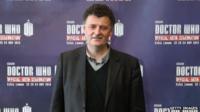 Steven Moffat says he hopes critics of Sherlock will be nice about the third series.
The writer and co-creator says he doesn't know if the reviews "make much of a difference these days" to audiences and viewing figures.
Sherlock is sold in more than 200 countries and series three is due to start on British television screens on New Year's Day.
Moffat did say that critics' comments can "make a difference to my day".
He added: "I don't know how much of a difference it makes to Sherlock.
"It doesn't hugely make an impact on big successful shows what the critics say."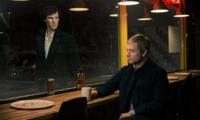 The third series has been clouded in secrecy, especially the explanation of how Sherlock Holmes is still alive after jumping off St Bartholomew's Hospital in London.
Moffat said the secrecy was necessary to keep the momentum up.
He said he hoped viewers would find the first episode comical rather than dark.
"I'd quite like them to think that," he said. "If you don't vary it then you're not doing the job.
"There's a game plan across the series and I would be quite pleased if people said the first and potentially the second, that it's lightened up a bit. I think that would be quite cool."
The 52-year-old has had a busy year working on the 50th anniversary of Doctor Who and the Christmas regeneration, along with Sherlock.
He admitted that because of his workload he hadn't finished some important re-writes for the new Doctor Who series and the first read through is on 17 December.
Moffat said he was "slightly resentful" he wasn't having Christmas off because the first shooting of the new Doctor Who series starts in January.
Sherlock is on BBC One on New Year's Day at 9pm.
Follow @BBCNewsbeat on Twitter.