From Cyrus to selfie: What got Twitter talking in 2013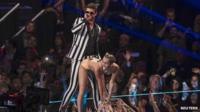 2013 was the year thousands commented on the arrival of a future king, a new Pope and the death of Nelson Mandela.
Miley Cyrus, Justin Bieber and One Direction trended on Twitter on a daily basis.
It was where videos were posted of fox-obsessed Norwegians and goats interrupting Taylor Swift.
Here's Newsbeat's take on some of the moments that dominated Twitter this year.
#twerk
Miley Cyrus straddling a wrecking ball naked was undoubtedly one of the most talked about music videos of the year.
But it was her performance with Robin Thicke at the MTV Video Music Awards that hit social media hard. During her performance there was an average of 306,000 tweets per minute.
The pair sang Blurred Lines together, with Miley's twerking and tongue antics going viral.
A few months later, she trended once again when she appeared to light a joint on stage at the MTV European Music Awards in Amsterdam.
#royalbaby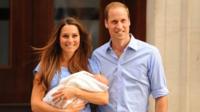 In July, the Twitter feed of Clarence House announced: "Her Royal Highness The Duchess of Cambridge was safely delivered of a son at 4.24pm."
Two days later, the official announcement that the #royalbaby was to be called George Alexander Louis had been retweeted 18,633 times.
#wimbledon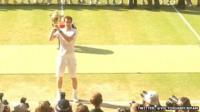 "Can't believe what's just happened!!!!!!!" is how Andy Murray summed up his win at Wimbledon.
He became the first British man in 77 years to win the singles title.
At its peak, the match against Novak Djokovic was getting 120,000 tweets per minute.
Victoria Beckham tweeted a picture of Murray holding the trophy from her viewpoint on Centre Court.
#corymonteith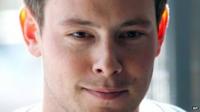 In July, Glee star Cory Monteith was found dead in a hotel room in Vancouver, Canada.
Tributes were paid using Twitter, including a poignant message from his on and off-screen girlfriend, Lea Michele.
"Thank you all for helping me through this time with your enormous love & support. Cory will forever be in my heart," she wrote, along with a picture of the pair of them together.
It was 2013's most retweeted tweet, with more than 394,000 people re-posting it.
#selfie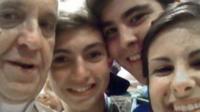 In December, Oxford Dictionaries announced their international Word Of The Year was selfie.
Its definition is "a photograph that one has taken of oneself, typically one taken with a smartphone or webcam and uploaded to a social media website."
Famous selfies this year have included the Pope, David Cameron, Barack Obama, an astronaut in space, Rihanna, Kim Kardashian, Taylor Swift and Miley Cyrus.
#kanyewest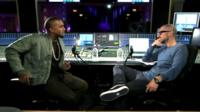 In September, Zane Lowe's interview with Kanye West on Radio 1 went viral.
The rapper spoke about everything from his celebrity status, his partner Kim Kardashian, his thoughts on Lady Gaga and Jay Z and even his take on leather pants.
Following the broadcast, the rapper let out a string of angry tweets which he later deleted, after he was spoofed by US chat show host Jimmy Kimmel.
The interview itself generated a massive reaction on Twitter.
Nick Grimshaw said it was "the best thing that's ever been on Radio 1" while Greg James said, "When Kanye rants he sounds like Chris from Family Guy."
Follow @BBCNewsbeat on Twitter