GTA V: Story mode updates and online heists for 2014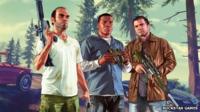 The makers of Grand theft Auto V (GTA V) have said the game will receive "substantial" story mode updates in 2014.
On the Rockstar newswire, developers said they plan to continue the stories of the game's main characters Trevor, Michael and Franklin.
The post also included news of co-operative heists being introduced to the game's online mode.
Rockstar added: "Stay tuned for much more detail in the new year."
A separate post on the page includes details of another new addition to the GTA V online multiplayer mode.
The release of the death match and race creators beta will allow players to create their own races and competitive shooting arenas for other players to play, rate and share, via the Rockstar Games Social Club.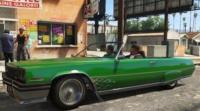 Grand Theft Auto V, which is set in "a satirical reimagining of modern Southern California", is the first game in the series that allows players to jump in and out of the lives of three simultaneously playable lead characters.
The game quickly became the fastest selling entertainment product ever when it was released on 17 September taking just three days to generate $1bn (£620m) in revenue.
However, users complained about a number of issues with the game following the launch including one which caused cars to lose upgrades or completely disappear from safe houses.
It picked up the game of the year award at the Golden Joystick Awards in October.
Follow @BBCNewsbeat on Twitter