How Animals Eat Their Food named UK's top-trending clip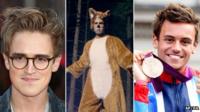 A video called How Animals Eat Their Food has topped a list of the UK's most popular YouTube videos of 2013.
The slapstick clip, in which two men re-enact the eating habits of lizards and kangaroos, finished above McFly singer Tom Flecther's wedding speech on a list of most shared and liked videos.
The most popular music videos and YouTube channels were also announced.
Naughty Boy's La La La was the most popular music video in the UK, with Psy's Gentleman coming second.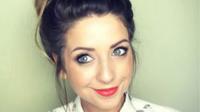 BBC Radio 1 presenters Dan and Phil, as well as the station itself, were among the UK's favourite channels.
And fashionista Zoella, whose video blogs won a Teen Award last month featured on the list of UK's most popular YouTube channels.
Among the UK's most popular videos were the first audition from Britain's Got Talent winners Attraction, the original Harlem Shake dance clip and Tom Daley announcment last week that he was in a relationship with a man.
Comments and interaction were taken into account, rather than just views, to identify the 10 videos that people were talking about most in 2013.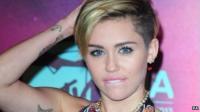 Norwegian comedy duo Ylvis topped the global trending list with their spoof pop song The Fox, which poses the eternal question "what does the fox say?" before suggesting the animal produces a string of exuberantly silly catchphrases.
The clip has been viewed more than 265 million times around the world - and gave the performers a UK top 40 hit.
Telekinetic Coffee Shop Surprise - an elaborate prank to promote the horror film Carrie - and a parody of Miley Cyrus' Wrecking ball also appeared on the worldwide list.
The original video for Wrecking Ball as well as Cyrus' We Can't Stop finished behind Psy's Gentleman on the global music video list.
One Direction's singles One Way Or Another and Best Song Ever also featured in the top 20 most popular music videos of the year.
Follow @BBCNewsbeat on Twitter