Adam Sandler named most 'overpaid' actor by Forbes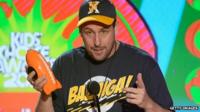 Adam Sandler has been named 2013's most overpaid actor according to a US business magazine.
The 47-year-old star of Jack & Jill and That's My Boy gets a high upfront fee for his work but delivers "middling returns", said Forbes.
They estimated that his last three films returned an average of $3.40 (£2.10) for every $1 (61p) he was paid.
That's My Boy cost an estimated $70 million (£43.5m) to make but lost money with returns of just $57m (£34.6m).
Last year Eddie Murphy topped the list, returning an average of $2.30 for every dollar he was paid.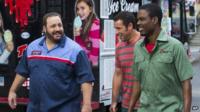 Second on this year's list is the former Grey's Anatomy actress Katherine Heigl, returning an average of $3.50 (£2.13) for each dollar she earned.
Her recent films Killers and One for the Money did not perform particularly well at the box office.
This year's list uses the last three films an actor has starred in over the past three years, up to 1 June 2013.
This means Sandler's comedy Grown Ups 2, which was released in July and did well in terms of ticket sales, did not count when Forbes made the list.
They said they look at actors' pay, film budgets and expenses to make their calculations.
Although Forbes did not say how much Sandler earned on his last few films, they did add he can still get more than $15m (£9.1m) up front per film.
Reese Witherspoon, the star of Water for Elephants and This Means War, completes the top three with an average return of $3.90 (£2.37).
Nicholas Cage was fourth, with a $6 (£3.65) average return, and comedian Kevin James was fifth, returning an average of $6.10 (£3.71).
Follow @BBCNewsbeat on Twitter