Rough Copy: Humble that musicians are noticing us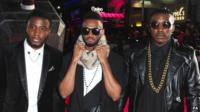 The X Factor boy band Rough Copy say artists including Wretch 32, JLS and Giggs are showing them "love".
The group, who were evicted from the competition in the semi-finals, say they are "humble" about the attention.
"Wretch 32 showed a lot of love to us. Angel showed a lot of love. Tinchy Stryder showed a lot of love.
"We've had it from across the board and we're just very humble that people are taking notice and actually showing us that love," said Kazeem Ajobo.
He added: "Lethal B, Mischa B, JLS have showed a lot of love. The Saturdays, Giggs, James Arthur."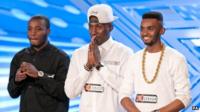 Rough Copy have been known on the show for their fashion choices, including leather kilts, sequins and dungarees.
"It's not something we picked up going on X Factor," said Joey Thomas.
"We just do us and try and stand out from the crowd at all times but it's not something that's a gimmick. It's just what we like.
"We've all got individual styles as well so I think everyone just picks up on that," he added.
The bookies favourite, going into this year's final, is Sam Bailey, the only contestant remaining in Sharon Osborne's overs category.
"It'll be a fair fight and hopefully the right person wins," said Kazeem, adding his support for the two boys remaining in The X Factor, Luke Friend and Nicholas McDonald.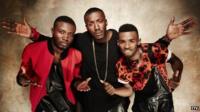 The band say they are looking forward to getting back to work and making plans for a future in music.
"After The X Factor Tour it would be nice to just go in the studio, write, make a couple of singles, work on the album and then hopefully by the end of next year have a single out and that will be a nice way to end the year," said Sterling Ramsey.
"Then 2015 get a Brit Award. That's the dream. And to keep on going, going, going until 30 years from now."
Follow @BBCNewsbeat on Twitter