The Wanted star Siva Kaneswaran announces engagement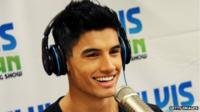 The Wanted star Siva Kaneswaran has confirmed he has proposed to his girlfriend of six years.
The boy band singer asked show designer Nareesha McCaffrey to marry him during his own surprise birthday party and to begin with she turned him down.
He told Hello! magazine: "It was like a military operation to plan the proposal.
"I couldn't even tell the other boys in the band in case they blew the surprise."
The musician turned the event into an engagement party after discovering he was going to be surprised.
He added: "I said to her I wanted a present I would always remember this year by - for you to be my wife.
"I'd bought the ring months before I'd been trying to figure out the right time. I love her, I love every bit of her."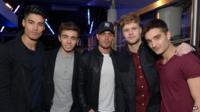 McCaffrey initially said no after being overwhelmed by the situation but then changed her mind.
"I'm still in shock. I don't like surprises and he really surprised me, but I was so happy. I can't wait to start planning the wedding," she said.
Earlier this year fellow band mate Nathan Sykes had surgery on his throat after suffering from a haemorrhaging vocal cord.
Their latest album, Word of Mouth, was released in November.
Follow @BBCNewsbeat on Twitter