Teenager arrested over Paul Walker car wreckage theft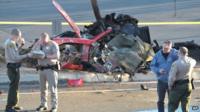 An 18-year-old has been arrested in California after being accused of stealing part of the car actor Paul Walker died in.
Jameson Witty, 18, was arrested at his home in LA.
He is now being held on $20,000 (£12,250) bail, said a statement from the Los Angeles Sheriff's Department in California.
The theft is said to have happened as the Porsche was being towed from the accident scene on Saturday night.
A second person, a 25-year-old man, is also wanted by police over the theft of wreckage from the car.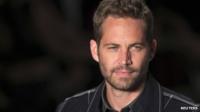 Witnesses said they saw someone driving behind the tow truck that was taking the car away hours after the crash that killed both Walker and his friend Roger Rodas, who was driving, last Saturday.
Onlookers said a man got out of the car when the truck was at traffic lights, grabbed a piece of the car and drove away.
Police identified the two suspects and when searching a home in Canyon Country, north of Los Angeles, found a bit of roof panel from the red Porsche.
Detectives will meet with prosecutors to talk about possible charges.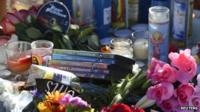 A post-mortem examination found that Walker, 40, was killed by the impact of the crash and a subsequent fire.
The US actor starred in the Fast & Furious films that celebrated high-speed car chases.
Both he and Rodas are said to have died within seconds of the crash, according to media reports.
Investigators are continuing to look into the cause of the crash, but have said speed was believed to be a factor.
Production on the seventh instalment of the Fast & Furious franchise has been put on hold following his death.
Follow @BBCNewsbeat on Twitter