Affordable alternatives for gadget lovers on a budget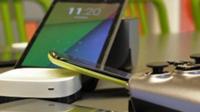 For gadget lovers who simply must have all the latest technology, it could prove to be an expensive Christmas.
The new XBox One and PlayStation 4 are both competing for gamers' loyalty and cash.
Apple, Samsung, Nokia and others are locked in a smartphone showdown and tablets are thinner and lighter than ever.
Cheaper alternatives can be tempting, but how do they compare to the must-have, budget-busting tech.
Tablets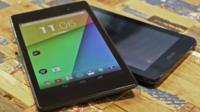 An iPad Air or Microsoft Surface may be out of reach for some, but there are several quality tablets available for less than £200.
Google's Nexus 7 (above) boasts a speedy quad-core processor and a display with more pixels per inch than Apple's latest iPad mini.
Tesco's Hudl has made an impact despite a low-quality camera but its capacity to multitask is limited.
The Amazon Kindle Fire HDX 7 competes on screen resolution and processing power but limits access to the Google Play store.
The Asus MeMO Pad HD (also pictured), Samsung Galaxy Tab 3 and the Dell Venue 8 Pro all provide other options.
Smartphones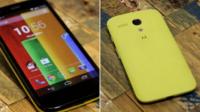 A cheap phone doesn't have to mean low quality.
For £135 the Moto G, from Google-owned Motorola (above), has a 4.5in (11.4cm) high-definition screen and speedy quad-core processor but its five megapixel camera can't compete with a Galaxy S4 or iPhone 5S.
The Kogan Agora and UK-based Kazam range of Trooper and Thunder handsets offer more stock Android options under £200 and the Nokia Lumia 520 is one of the cheaper options for fans of Microsoft's Windows Phone 8 operating system, but again the cameras lack pixel power.
Gaming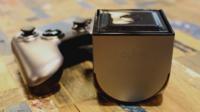 If you're willing to sacrifice power and performance there are some cheaper alternatives to the Xbox One and PlayStation 4.
Ouya (above) and Gamestick, both running on Android, are priced under £100.
They offer access to familiar mobile gaming and retro titles but while a few levels of Sonic the Hedgehog or Final Fantasy might pass the time, the lack of exclusive games means the hardware may have limited appeal.
Nvidia Shield, OnLive and GamePop provide other options for gamers not wanting to follow the crowd.
TV streaming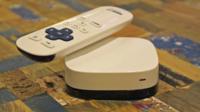 Similar in size to Apple TV and the Roku range but significantly cheaper, Sky's Now TV box (pictured) is a simple way to get BBC iPlayer, 4oD, Demand 5 and other catch-up services on your TV.
It lacks extra features the more expensive alternatives come with and Sky's aim is that customers buying the £10 box will sign up for paid subscriptions to film, sports and entertainment channels.
Google's Chromecast is yet to be officially released in the UK but the dongle will offer another option for streaming video and music to your TV, via phones, tablets and computers.
Follow @BBCNewsbeat on Twitter