Radio 1 'right' not to play song after Thatcher's death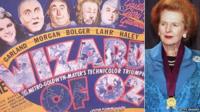 The BBC Trust has rejected a complaint over Radio 1's decision not to play Ding Dong! The Witch Is Dead in full on its Official Chart Show.
The Wizard of Oz song was at the centre of an online campaign by opponents of former Prime Minister Margaret Thatcher, who died in April aged 87.
The BBC Trust said the 51-second track, which reached number two in the chart, "was clearly a celebration of a death".
Radio 1 controller Ben Cooper admitted it had been a "difficult decision".
Instead of playing the song, chart show host Jameela Jamil linked to a report by Newsbeat reporter Sinead Garvan, who played two clips of the song, gave details of the online campaign and explained why opponents had been critical of Thatcher.
The news report also included views from members of the public.
One listener complained saying the decision was "a breach of the requirement for impartiality" and had "compromised the integrity" of the chart.
They also argued the "song was not political, did not contain a political message and did not refer to any individual" so could "have been played in its entirety without causing any offence".
But the trust's Editorial Standards Committee said that the "song had become linked with a campaign in the wake of Lady Thatcher's death to display opposition to her premiership and did have the capacity to cause offence because it had been widely publicised as being a way of giving voice to anti-Thatcher feelings".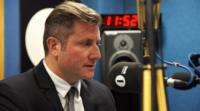 It added that "aside from whether or not people had bought the song in order to express anti-Thatcher political sentiments, which listeners may or may not agree with, the song in question was clearly a celebration of a death".
Radio 1 controller Ben Cooper said the decision had been a "difficult compromise", saying he had to balance respect for someone who had just died with issues around freedom of speech.
He said: "It is a compromise and it is a difficult compromise to come to because you have very difficult and emotional arguments on both sides of the fence and let's not forget you also have a family that is grieving for a loved one who has yet to be buried."
Follow @BBCNewsbeat on Twitter