Darth Vader selfie launches Star Wars Instagram account
Star Wars has launched an official Instagram account by posting a selfie of Darth Vader.
A tweet told followers to subscribe to the Instagram page, saying: "It is useless to resist."
Two behind the scenes pictures from previous films have also been posted including one of the concept model of the Star Destroyer in A New Hope.
Star Wars: Episode VII will begin shooting at Pinewood Studios early next year ahead of an expected 2015 release.
Within 12 hours of posting the first image, the Star Wars Instagram account had gained just under 60,000 followers.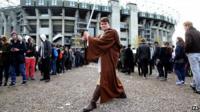 Disney is holding open auditions for the new film, which have been taking place around Britain.
The process started in Bristol on 9 November, but the queue was closed before the session opened after too many people turned up.
Producers are looking to cast two lead roles - a "street smart" girl in her late teens and a "smart, capable" man in his early 20s.
It was recently confirmed that R2D2 would be returning in the new film.
The droid is one of the few characters to appear in every film in the franchise.
The most recent feature-length Star Wars film, Episode III - Revenge of the Sith, was released in 2005.
Follow @BBCNewsbeat on Twitter