TV executives 'should take more risks with actors'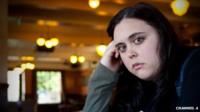 "When have you ever seen someone like me fronting a TV show?" Sharon Rooney asks.
"Its not a common thing, which in itself is a sad thing."
The star of E4's My Mad Fat Diary is right. She is one of only a few larger young actresses with a lead role on a British TV show.
She nearly gave up on acting but that all changed when she landed the role of Rae Earl, an overweight 16-year-old with mental health problems.
When the television advert for My Mad Fat Diary appeared on telly last year, Sharon says it didn't go down well.
"[I had] death threats on Twitter, rape threats on Twitter. You name it, I was called it and I get it. It's fine, people were shocked," she says.
"I think they were a bit like, 'Who is this girl, this chubby girl on my screen talking about mental health'. What is this?"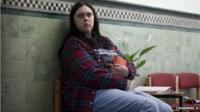 My Mad Fat Diary deals with the issues many other television programmes shy away from.
When the first series aired earlier this year it got good ratings, was commissioned for a second series and Sharon was nominated for a Bafta.
"I think the writing helped, the music, the look of the show and hopefully my portrayal," Sharon explains.
Despite the show and Sharon's success, it is evident there aren't many other young actresses like her on our screens.
"It annoys me no end, I think we should just start seeing more normal people, not just big people or small people, every kind of people," she says.
"People are too scared to take the risk and be out there and be different."
She says it is not just the people with the power in television that are to blame.
"It's just so sad, there is just so much pressure from the media, 'How to get a bikini body'. I'll tell you how to get a 'bikini body' - put a bikini on your body," she laughs.
"Then you have a bikini body, you don't need to listen to what someone you don't know is telling you to do."
Follow @BBCNewsbeat on Twitter