Henry Cavill voted world's sexiest man in Glamour poll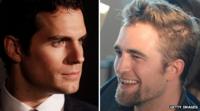 Robert Pattinson has lost his world's sexiest man title to fellow British actor Henry Cavill, according to Glamour magazine.
The former Twilight star, 27, had won the award for the last four years.
But the British actor has slipped to second place behind the new Superman, Man of Steel, star.
Australian actor Liam Hemsworth, who recently broke-up with Miley Cyrus, is third in Glamour's annual sexiest men poll, voted for by 95,000 people.
Robert Pattinson has had an on/off relationship with Twilight co-star Kristen Stewart following her affair with Snow White And The Huntsman director Rupert Sanders.
Meanwhile, 30-year-old Henry Cavill is due to star in Guy Ritchie's remake of The Man from U.N.C.L.E.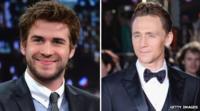 Previously he has starred in The Tudors, as Charles Brandon, and 2007's romantic fantasy film Stardust.
Justin Bieber, 19, is the youngest name on the list and is up from 49 last year to 10th place.
One Direction star Harry Styles, also 19, is sixth just behind British actors Tom Hiddleston and Benedict Cumberbatch in fourth and fifth places.
Mandela: Long Walk To Freedom star Idris Elba is a new entry at eighth place, while the top 20 includes Charlie Hunnam, who quit the Fifty Shades Of Grey movie, Johnny Depp, Olly Murs and Doctor Who star Matt Smith.
In November, singer Adam Levine was named the sexiest man alive by People magazine while Emma Watson and Sherlock actor Benedict Cumberbatch topped an Empire Magazine poll of the world's sexiest film stars in October.
Glamour's 100 Sexiest Men appears in the January issue, out from 5 December.
Glamour's top 20 sexiest men for 2013
1. Henry Cavill
2. Robert Pattinson
3. Liam Hemsworth
4. Tom Hiddleston
5. Benedict Cumberbatch
6. Harry Styles
7. Chris Hemsworth
8. Idris Elba
9. Jamie Campbell Bower
10. Justin Bieber
11. Charlie Hunnam
12. Ian Somerhalder
13. Matt Bomer
14. Johnny Depp
15. Olly Murs
16. Michael Fassbender
17. Channing Tatum
18. Rafael Nadal
19. Matt Smith
20. Robert Downey Jnr
Follow @BBCNewsbeat on Twitter