Low-powered consoles offer cheaper gaming alternatives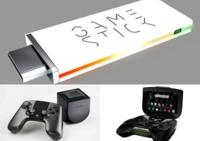 Swindon may not seem a likely setting for an open-world video game.
But in a small office above a car park in the Wiltshire town, two men are convinced it offers the ideal location.
"It seemed like the perfect place," said Gaz Bushell from Fayju, as he steered his new game's hero on to a nearby bouncy castle.
But Amazing Frog? is not available on Xbox One or PS4, it is exclusive to another new console - Ouya.
The device, running Google's Android operating system, is one of several cheaper, less powerful alternatives to Microsoft and Sony's next generation machines.
Financed through crowdfunding website Kickstarter, the Ouya is pitched as an affordable way to play games on your TV.
The company hopes to offer smaller developers, priced out of the bigger console market, a way into gamers' living rooms.
"The appeal is that we can make a game and put it out there straight away without any restriction at all," said Mr Bushell from Fayju.
"You can make money on Ouya, definitely.
"I want more people to buy it. It's maybe not taken off too much in the UK yet, but it's a good thing to have in the house."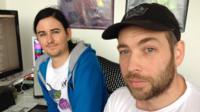 Ouya has not released sales figures, but the company's CEO Julie Uhrman defended the console's performance earlier this year.
Gamestick is another Android-powered device due to launch in the UK before Christmas.
Chief Marketing Officer for owners PlayJam, Anthony Johnson, said the company was aiming to harness the popularity of mobile gaming.
"People have discovered that they love playing games because of their tablets and phones," he said.
"We just think they look great on a 50-inch screen with your surround sound system."
Pose threat?
Other Android-powered devices including Nvidia Shield and forthcoming Steam Box, using Valve's PC-based platform, show there are viable alternatives on the market.
None claim to offer a serious challenge to the dominance of Sony, Microsoft and Nintendo.
But is there any chance they pose a threat to the industry's big players?
"No, I really don't think they do," said Daniel Krupa, games editor at IGN.
He is among many gamers suggesting cheaper, lower-specification consoles have limited appeal.
"I really doubt that middle market exists," he said.
"I think if you play free or low cost games on your phone or tablet there's no compelling reason as to why you'd want to reproduce that experience in your living room."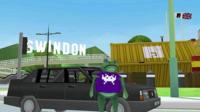 He suggested support from developers would be key to the success of Ouya, Gamestick and others.
"They need people to create games specifically for those platforms, experiences that people can't quite get elsewhere," he added.
Sony and Microsoft are both attempting to encourage independent developers to publish games on their new consoles.
The gaming giants say they are making it easier and more affordable for indies to work with them, but many feel more at home on smaller platforms.
Richard Wilson, chief executive officer of games industry body Tiga, suggests companies should keep their options open.
"I think the competition is good, good for the industry and good for consumers," he said.
Follow @BBCNewsbeat on Twitter