Ian Watkins from Steps 'consulting lawyers' over story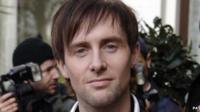 Steps singer Ian "H" Watkins says he is consulting lawyers after his picture was published on E! Online in an article about convicted paedophile, Lostprophets frontman Ian Watkins.
In a statement, the 37-year-old's management said he was "deeply upset" at being linked to the case.
E! Online said it "deeply regrets" mistakenly using a photograph of the star.
The image was taken down after his management intervened.
The star also suffered abuse on Twitter.
"Ian is deeply upset at being linked by E! online to these awful allegations," his representatives said.
"Clearly he has nothing whatsoever to do with this matter and E! online has confirmed that it used a photograph of Ian "H" Watkins by mistake.
"This is an extremely serious and damaging mistake to have made and this matter has been referred to our lawyers."
In a statement, an E! Online spokeswoman said: "E! Online deeply regrets originally publishing an image of Ian 'H' Watkins of the band Steps, rather than Ian Watkins of Lostprophets, and the error was corrected immediately.
"We are investigating the matter and will take appropriate action.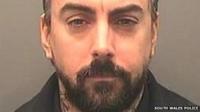 "Additionally, E! Online has reached out to Ian 'H' Watkins, via his management, to apologise directly."
H, as Watkins is known to Steps fans, also posted a message on his Facebook page on Thursday.
He thanked people who had left supportive messages but added: "My management took swift action to remove my image which was posted due to shoddy journalism.
"I have so far received no apology from [the news outlet]."
Ian Watkins, lead singer of the now-disbanded rock group Lostprophets, admitted a string of child sex abuse charges at Cardiff Crown Court on Tuesday.
Follow @BBCNewsbeat on Twitter