Typhoon Haiyan survivors: Please don't forget us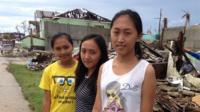 It's been three weeks since the most powerful typhoon to ever make landfall battered the central Philippines.
Typhoon Haiyan has killed at least 5,600 people and millions have been left rebuilding their homes and lives.
Tulip Mazumdar has spent the last week in some of the worst affected areas of the country.
She's been meeting some of the people from the town of Guiuan to find out what life's like since the typhoon.
The home of sisters Joyce, who's 20, Coreen, 19, and 15-year-old Christine was "totally damaged" by the disaster.
"We have relatives who died in the house," says Christine.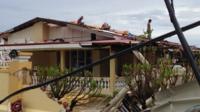 Christine, who is in her fourth year of high school, explains that the damage has completely changed the lives of people in Guiuan.
"It's like living in the old times," she says.
"You are not thinking of anything. You are just thinking, 'What are you going to eat? How are you going to survive?'"
Winds of up to 270km/h (167mph) hit the central Philippines when the typhoon hit land on 8 November.
There is still no access to electricity or the internet and girls are getting food and water every three or four days.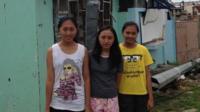 However, the sisters say they also need other basic supplies like shelter and medicines.
"Some of us got sliced by the roof so we really need aid, medicines," says Joyce.
More than 1,400 tents and other supplies are scheduled to be flown to the Philippines on six UK aid flights to help victims.
The girls say their future is uncertain because they don't know how long it will take to repair the damage.
"It would take a very long year to make our town what it was before," says Christine.
"This is a damage unlike before."
Coreen, who wants to be a teacher, adds: "I guess maybe 20 years from now, maybe we will be standing up again and raising our own selves for the future."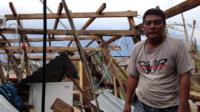 Danny Lace (above) used to be a caretaker but the phone company he worked at was destroyed.
He has two children who are 11 and 16 and there is no roof on his house.
More than a million houses were damaged by the storm. "There is no money to rebuild, no work," he says.
"I don't have materials, I wait for some help."
Haiyan, known as Yolanda in the Philippines, was the deadliest natural disaster in the country's history.
The UK has now pledged £55m in aid to the survivors and International Development Secretary Justine Greening said humanitarian efforts would not "stop here".
The help can't come soon enough for Danny, who says: "Please help us, don't forget us."
Follow @BBCNewsbeat on Twitter