James Arthur will perform on X Factor despite petition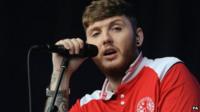 X Factor bosses have confirmed that last year's winner, James Arthur, will still be performing on the show despite a petition asking the show to ban him.
The 25-year-old gave control of his Twitter account to his management after becoming involved in a homophobia row with Matt Lucas and Frankie Boyle.
He also apologised last week for making a homophobic slur in a song.
An online campaign trying to stop him performing on the show this Sunday has more than 7,000 likes.
The page organisers said: "We do not feel James Arthur deserves a place on TV following his homophobia in his music and on social media."
The campaign is also calling on the show's sponsors, Dominos Pizza and TalkTalk, to withdraw their sponsorship from this weekend's show, which is also World Aids Day.
Arthur won The X Factor last year, selling 1.2m copies of his debut single Impossible.
An X Factor spokesman said: "Both ITV and the producers of The X Factor would like to make it clear that in no way do we support, condone or share any form of homophobia or discrimination.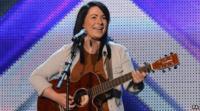 "Following his comments James has since apologised last week, making it clear that he did not mean to cause any offence and explaining the context behind his remarks."
Arthur has already issued an apology to fans saying he was "deeply, deeply sorry to any gay or lesbian people out there".
He added: "I would just like to make it clear that it was not meant in any way as a derogatory reference to homosexuality.
"I realise where the term has come from in meaning but used in the context of the rap battles I have grown up with it has come to mean something completely different.
"That said, I understand why it could cause offence and that absolutely wasn't my intention."
Despite apologising and promising to take down the rap, an angry text message exchange between Arthur and former X Factor finalist Lucy Spraggan was then made public.
Spraggan published the text messages, where Arthur could be seen calling her "two-faced" and a "fickle attention seeker".
Follow @BBCNewsbeat on Twitter