Doctors 'not following' HIV guidance
Medical professionals and a sexual health charity say some doctors in parts of the UK are failing to follow testing guidelines for HIV.
Staff from Britain's largest NHS trust, Barts Health, say clinicians in areas where infection rates are higher than average are not offering tests routinely, as recommended.
The National Aids Trust has supported the claims. The charity says one in five people living with HIV remain undiagnosed and almost half are diagnosed late.
It comes as Barts Health Trust says it's carried out the largest ever screening for the virus in the UK, to try to make staff think of offering a test as routine.
More than 2,550 people were tested at six of the trust's hospitals in East London during a week in November.
Doctors there say rates of the infection are higher than the national average of two in every 1,000 people testing positive for the virus.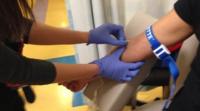 Doctor Chloe Orkin is a consultant in HIV at Barts Health NHS Trust. She was involved in the campaign.
"It's about hospital doctors and nurses making it normal to do HIV tests and normal for patients to accept them," she said.
"In this outpatients' area where we're currently sitting, if you'd come here last week people would not be routinely offered an HIV test despite the fact the prevalence for the virus is up to seven, eight times what it is for other parts of the country."
Guidance set out by the British HIV Association (BHIVA), British Infection Society (BIS) and the British Association of Sexual Health and HIV (BASHH) recommends that in areas of the UK where more than two in every 1,000 people have HIV, medical professionals should offer every patient who comes into a hospital a test, and GPs should offer one when people register with them.
The National Aids Trust says the UK is currently failing to bring down levels of late HIV diagnoses.
Deborah Jack is the chief executive of the charity.
She said: "We know there is a really good uptake when people are offered a test.
"Yet despite clear guidance HIV tests are not being routinely offered."
Public Health England estimates that 21,900 people out of 98,400 in the UK with HIV do not know they have it.
Dr Orkin said: "If a patient came with diabetes or cancer - and they never had their glucose checked on multiple visits, that would be a scandal, but for HIV if we don't test, people are just quiet and shy about it."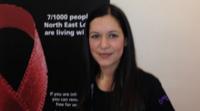 Rachel Bath is the HIV testing nurse facilitator for the Royal London hospital. She believes many doctors are afraid to offer tests because of the stigma attached to HIV.
She said: "Traditionally we've taken the responsibility as HIV clinicians to do it ourselves.
"Because of the stigma attached we thought people need all this pre-test counselling. It's changing the attitudes and opinions that HIV is a chronic illness. It can be managed with medication, but we can only do that if we know someone's diagnosis.
Tom Hayes, 28, was diagnosed with the virus in 2011. He says getting checked early has helped increase his life expectancy
"Anyone with HIV who is diagnosed earlier can expect to live a normal life expectancy now", he said.
"The later you leave it, the shorter and shorter your life expectancy gets."
Find out more about Tom's story here.
In a statement the Department of Health said: "People living with HIV can expect to live a long and healthy life if they are diagnosed early. This is why our sexual health strategy focuses on prevention and testing.
"However, the NHS and local authorities should work together to make sure that sexual health services are convenient and work for patients."
Follow @BBCNewsbeat on Twitter