Fans groups want a return to standing at football games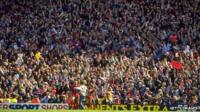 Supporters' groups from more than half of all Premier League clubs say they would like the option to stand at football matches again.
Trusts from the likes of Chelsea, Manchester United and Cardiff City say it would improve the atmosphere at games.
Some say adopting German-style "rail seats" could prevent injuries to fans who currently stand.
The government says all-seater stadiums remain the best way to ensure safety.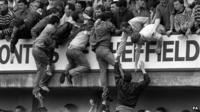 All-seater stadiums were made compulsory in the Championship and Premier League following an inquiry into the Hillsborough disaster.
In 1989, 96 Liverpool fans died watching their side play an FA Cup semi-final after a crush on the steel-fenced terraces at Sheffield Wednesday's ground.
The Liverpool Supporters' Union, Spirit of Shankly, says they have not adopted a position on designated standing zones.
But supporters groups from 12 Premier League teams say they do back a trial.
Not all of the trusts contacted replied, while some clubs have more than one supporter group limiting an overall response.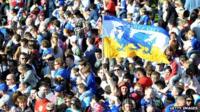 A statement from the Cardiff City Supporters' Trust said: "We believe that standing at football matches is not intrinsically dangerous and support a trial of safe standing at a professional club in England and Wales."
The Chelsea Supporters' Trust added: "There is a majority [of members] in favour of standing at football grounds. Those in favour believe that it improves the atmosphere at the game."
Duncan Drasdo, chief executive of the Manchester United Supporters' Trust, said: "Those that would like to stand would like to be able to stand, in a safer environment than it currently is.
"We have seen the rail seats in Germany and we believe they're an excellent solution.
"Every row has a rail going across it so effectively nobody can fall forward, unlike the current scenario we have with the low-back plastic seats."
Clubs in Sweden, Austria and Germany are just some of those to have standing areas with many using the rail seats system.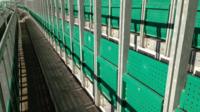 Thomas Franke is the stadium manager at Bundesliga side VFL Wolfsburg.
He said: "There is a safety barrier with a seat attached. When the seats are locked up there is a gap between barriers to allow standing.
"It's completely safe and it's part of German football history and culture."
VFL Wolfsburg say no-one has been injured while standing at their ground.
They also claim their 5,270 standing places are mostly taken by under-30s because it's cheaper.
Michael Gossman paid £130 for his standing season ticket at Wolfsburg, with seated tickets costing nearly £600 per season.
"It's a completely different atmosphere when standing, you can sing and raise your arms," said the 17-year-old.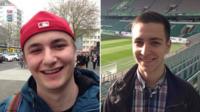 However Jonas Polaszvek, 20, admits standing areas can present a problem for police with identifying troublemakers.
"At Borussia Dortmund they can have 25,000 people standing and you can do something and the police cannot see you."
Clubs in England and Wales would need permission from the government to trial standing areas.
A statement from the Department for Culture, Media and Sport said: "The government believes that the long-standing policy which requires that stadia of football clubs in the top two divisions be all-seater, is the best means to ensure the safety and security of fans."
The government also says it believes football grounds are more comfortable than 20 years ago.
"The football authorities and police continue to support this position and we do not believe there has been a compelling case made for the policy to change."
However, the law is different in Northern Ireland and Scotland, with Celtic suggesting they are considering standing areas in part of their ground.
Alloa Athletic chairman Mike Mulraney also believes the introduction of safe standing would help Scottish clubs reduce prices and increase crowds.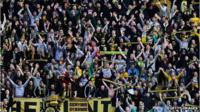 Follow @BBCNewsbeat on Twitter