Your view: Plain cigarette packets plan is revisited
28 November 2013

From the section

Politics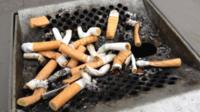 The government is thinking again of only allowing cigarettes to be sold in plain, unbranded packets in England after being criticised for shelving the idea in the summer.
The first plan was to only sell cigarettes in plain brown packs, with no logos or branding.
It was shelved in July over claims ministers had been influenced by powerful friends in the tobacco industry.
The government insisted they were waiting for more evidence that the idea could work.
Early evidence from Australia suggests it does make a difference.
With claims that 570 children take up smoking every day, Public Health Minister Jane Ellison says the time is now "right" for another study.
Newsbeat has been to Sunderland to see what people think about the idea.
Shaun Elliott and Josephine Dimes from Australia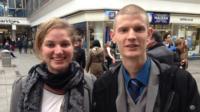 Shaun said: "It won't make any difference really. It doesn't matter what the box is like.
"When I was in school, just everyone was doing it so I joined along. I've been doing it ever since."
Josephine added: "This is like the plain packs idea back home. If it's having an effect that's cool."
James Errington and Sophie Donaldson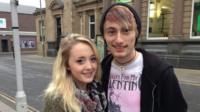 James said: "I still think people will start (smoking). There'll still be pressure even if it is packaged unadvertised.
"It's stupid because it is just killing yourself basically."
Sophie added: "I doubt people are going to take notice to be fair. It's their decision, they chose to do it.
"They're not going to stop."
Karensa Dent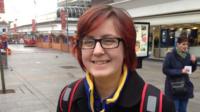 She said: "I have heard people say they buy certain packets because they're decorative, but I don't think it's the packet that's making them start.
"Don't try it until you're old enough to know what all the dangers are and how much it's going to cost you.
"Especially don't do it if you haven't got a job, because then you'll have no money."
Jessica Smith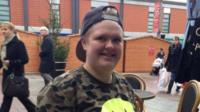 "If the government thinks cigarettes are so bad, why do they sell them in every supermarket and every shop?
"If they think they're so bad for people they should make them illegal."
Follow @BBCNewsbeat on Twitter