Disclosure postpone Birmingham show until March 2014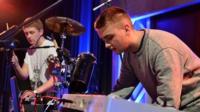 Disclosure have postponed their show at Birmingham's 02 Academy on Wednesday night and rescheduled it for 4 March.
In a video on the band's Facebook page, Guy Lawrence explained that his brother and bandmate Howard Lawrence was too ill to play the gig.
"We're sorry we've had to do this, we don't cancel shows," said Guy Lawrence. "We've been on the road for two and a half months without going home.
"Finally someone's ill, unfortunately in the last week of the run."
He added that Disclosure's show at Brighton Dome on Monday had been "touch and go" because of his brother's illness.
The duo, whose number one debut album Settle was nominated for this year's Mercury Prize, will tour North America in early 2014 before returning to the UK in March.
"We'll be back next year with a bigger, better show, new music, bigger lights - bigger everything," added Guy Lawrence in the Facebook video.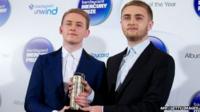 A new track called Together featuring Nile Rodgers, Sam Smith and Jimmy Napes appeared online earlier this month.
In October, Disclosure said they were "not about glamorising drugs in any way" after the video for their single, Help Me Lose My Mind, was taken offline by their label after complaints.
Ticket holders for the show on Wednesday night will still be able to use them for the rescheduled show on 4 March.
Follow @BBCNewsbeat on Twitter