Nick Grimshaw cameos in five of the biggest soap operas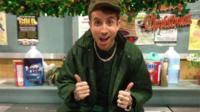 Radio 1 Breakfast Show host Nick Grimshaw will appear in five of the biggest soap operas.
The DJ has landed cameo roles in EastEnders, Coronation Street, Emmerdale, Hollyoaks and Home and Away.
He said he wanted to make his mum proud after he formed the Radio One-Derers football team to take on pop star Olly Murs' side in July to impress his dad.
Details of each of the parts will be revealed throughout the week on the Radio 1 Breakfast Show.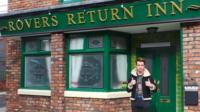 During Monday's programme it was announced that Grimmy will appear as Dougie, a Walford caretaker who is working at a Christmas party, in an episode of EastEnders.
It will be aired in the week before Christmas.
He has the line, "alright Alfie?"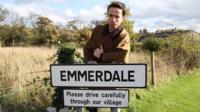 Shane Richie, who plays Alfie Moon in the BBC programme, watched the cameo and talked about how Grimmy did.
"You've tapped into the character. You've thought about it," said Richie.
Tuesday saw Coronation Street's Sally Dyveno, who has played Sally Webster for 27 years, join Nick in the studio.
"Do you want me to be honest? I think you should have walked much slower," she said about his cameo in The Rovers Return Inn, which will air on 6 December.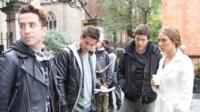 Earlier in the year, it was announced that the DJ had filmed a part in Australian soap opera Home and Away, which will air in May 2014.
On Wednesday's show Lynne McGranger, who plays Irene Roberts in the show, spoke to the Radio 1 Breakfast Show from Australia.
"I was very interested in your character," she said about his performance. "It was riveting, you had such purpose."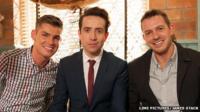 Emmerdale's Jeff Hordley, who plays Cain Dingle, was surprised to see Nick Grimshaw's skinny jeans on Emmerdale Farm.
"You should definitely be in Emmerdale. I think you've got the accent," he said about the DJ's performance which will be aired next week.
Steph Waring and Alex Fletcher, who play Cindy Cunningham and Diane O'Connor, talked about Grimshaw's role in Hollyoaks which will air on 2 December.
"We loved having you. You can come back any time," said Fletcher.
The BBC Radio 1 Breakfast Show airs between 6.30am and 10.00am every weekday morning.
Follow @BBCNewsbeat on Twitter