Supermarket energy drink ban for under 16s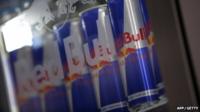 Morrisons supermarket has banned children under the age of 16 from buying high caffeine energy drinks.
The staff at some of the supermarket branches will challenge customers to prove their age.
The ban has been brought in because of health fears about extreme-caffeine intake by children with energy drinks.
The restrictions apply to certain brands with more than 150mg of caffeine per litre.
It will affect Red Bull which has 320mg, Monster (338mg) and Relentless (320mg).
Morrisons is the first major UK retailer to ban the drinks.
Spokeswoman Claire Johnson said: "We understand the concern over the potential impact of high-caffeine energy dinks on young people and are taking steps to address this."
The supermarket is trialling the ban in stores in Glasgow, Dorset, Leeds, Cheshire, Staffordshire and Suffolk with a view to rolling it out further.
Earlier this month, a campaign to encourage major retailers to crack down on the sales of energy drinks to children was launched in Edinburgh.
The sale and promotion of high caffeine drinks such as Red Bull is already banned in schools there, under the Schools: Health Promotion and ­Nutrition Act Scotland 2007.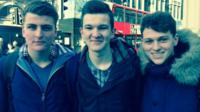 But children can still ­easily purchase them from retailers despite warnings on the cans stating that they are not advised for children.
Aaron, 17, James, 16 and Will, 16 from Liverpool think the ban is a "bad idea."
Speaking after just finishing an energy drink, the teenagers in London, questioned how the supermarkets would enforce it.
They said: "I think it's a bad idea. How would they police it? It's easy with fake ids.
"It's not the supermarkets responsibility. It should be up to the parents to decide whether or not they should drink it."
They added: "I think it would be a good idea to ban the drinks for kids a bit younger, like under the age of 10."
Energy drinks are high in sugars, caffeine and taurine, an organic acid and a major constituent of bile found in the large intestine.
Little is known about the effects of heavy or long-term use.
Gavin Partington from the British Soft Drinks Association said: "We operate a code of practice which says that high caffeine content soft drinks are not suitable for children, and specifies this information should be clearly stated on the label of such drinks.
"It also states that high caffeine soft drinks should not be promoted or marketed to those under 16."
This ban comes after research earlier this month found one in 20 teenage pupils goes to school on a can of energy drink instead of a good breakfast.
In the past a number of other schools around the UK have banned the drinks.
In September 2009 two major retailers in Sweden banned the sale of energy drinks to under-16s, due to worries over hyperactivity and a suggestion the drinks were a gateway to alcohol abuse.
Sainsburys and Tesco have said they have no plans to follow Morrisons.
The energy drink manufacturers have yet to respond.
Follow @BBCNewsbeat on Twitter