Putting off checks never works, says man with HIV
21 November 2013

From the section

Health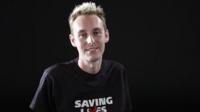 Around one in five people with HIV in the UK are unaware they have the virus, figures show.
According to Public Health England 21,900 people out of 98,400 with HIV do not know they have it.
Tom Hayes, 28, was diagnosed with the virus in 2011.
After finding out his partner had been cheating on him, Tom went for a sexual health check-up, which came back clear. However, another one six months later came back as HIV positive.
"When I was first diagnosed my brain refused to acknowledge it. I coped with it really well for the first few days until the reality dawned on me," he said.
"I probably cried for two days straight.
"I wasn't expecting anything to come back because I didn't have any symptoms at all."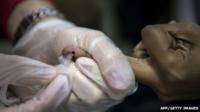 According to Public Health England, 47% of the 6,360 people newly-diagnosed with HIV in 2012 were diagnosed at a late stage.
Gay men remain the group most affected by HIV, followed by black African men and women.
However, 2,880 of new cases in 2012 were among heterosexuals.
Tom says, initially, he didn't think life would carry on as normal but that he's probably healthier than he's ever been, is in a happy relationship and only has to take one pill a day.
Getting checked early helped Tom increase his life expectancy.
"Putting it off never works," he said. "You always have that niggling feeling in the back of your head that something might be wrong.
"I wasn't expecting anything to come back because I didn't have any symptoms at all. I'm really, really lucky, and glad that I got tested when I did."
'Blissful ignorance'
Dr Steve Taylor is an HIV specialist at Heartlands hospital in Birmingham.
He says the new figures mean the illness could spread on without people realising.
"If they don't know that they're carrying it then they can pass it to their sexual partners.
"It's not actually people who are tested and are on treatment who are passing HIV on, it's those individuals who are, if you like, in blissful ignorance."
Dr Taylor says 50% of people are diagnosed with HIV after the point when they should have started receiving therapy.
He is medical director of HIV awareness charity Saving Lives, which aims to raise awareness in people who have not been taught about HIV.
Dr Taylor thinks there should be more education in schools.
"I think there is still a lot of stigma surrounding HIV. In certain communities it's still seen that HIV is something you've bought on yourself, you have loose morals, therefore people are very, very afraid to go for a test or talk about it.
"It's not until everybody knows somebody with HIV that they'll actually realise that they're just like you and I."
Follow @BBCNewsbeat on Twitter