James Anderson & Graeme Swann on England's Ashes chances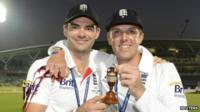 The English cricket team have travelled to Australia to defend the Ashes they won at home earlier this year.
They are looking for a fourth successive series victory, after captain Alastair Cook lifted the urn at The Oval in July.
The first test starts in Brisbane on Thursday.
Before they set off, James Anderson and Graeme Swann discussed how they cope being part of one of sports' oldest rivalries.
Anderson says the Australian press and fans can be a problem before the game even starts.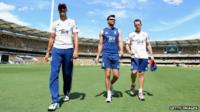 "When you go to Australia you'll always get stick from the crowd, and it's something we've all got to be prepared for," said Anderson.
"We'll watch out for each other and hope it doesn't get too much for people."
England won 3-0 at home but they won't tour Australia again until 2017-18.
The players think they can make it a happy send off.
Graeme Swann said: "If we play as well as we did last time in Australia I expect us to win.
"I'll be keeping my fingers crossed players like Cooky (Alastair Cook) and Trotty (Jonathan Trott) play as well as that tour."
Anderson added: "We didn't play anywhere near as well as we could in the summer. It's exciting in a way because we know we can improve."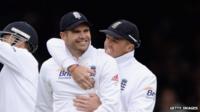 The pair say being on tour with friends helps.
"I spend every waking minute with Jimmy (James Anderson) on tour," said Swann.
"Every meal, every night he puts a smile on my face. He's never miserable with me, he buys me drinks, he lets me play on his Xbox - he's wonderful."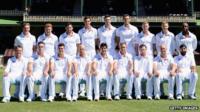 Despite enjoying each other's company, the team will be in Australia for three months.
Anderson said it's "a heck of a long time to spend with someone".
He added: "There have been issues in the past where I've had to kick him out of my room."
Swann said: "The time he's talking about was over a game of Fifa. Tim Bresnan beat Jimmy, I laughed and he kicked me out and didn't speak to me for three days."
Follow @BBCNewsbeat on Twitter