Eminem says he's thankful to survive an addiction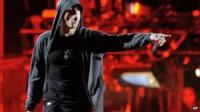 US rap star Eminem has been speaking about his addiction problems.
During an interview with Zane Lowe, which was broadcast on Monday night on BBC Radio 1, the rapper said: "I certainly could have taken another path."
The 41-year-old, whose real name is Marshall Mathers, spent time in hospital in 2005 being treated for an addiction to sleeping pills.
He says now he is better, he is able to connect with audiences again.
"I know that there are so many addicts in this world and people who have problems like that that don't make it," he said.
Watch part one of Zane Lowe's interview with Eminem on Radio 1's YouTube channel.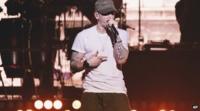 "I think that one thing that keeps me pushing forward is the music, and the passion, so I am thankful for that."
The star's eighth studio album, The Marshall Mathers LP 2, was released on 5 November.
Asked by Lowe about how he deals with fame, he said: "I've never been an attention seeker.
"I don't like to go in public and walk around and be like, 'Here I am'."
During the interview, the rapper was asked about surviving addiction, and what it was like to perform again.
"I think back then it was so big in my head," he said.
"Let me take this and this, drink this and this and get through it, as opposed to see the people, connect with the crowd and have fun with it."
Eminem also went on to talk about his plans for the future.
"I always write, and I probably always will," he said. "Whatever point I decide I am going put the mic down or whatever happens like that, I always think I want something to do with the music."
Follow @BBCNewsbeat on Twitter