Status dogs in shelters rising, says animal charity
The number of status dogs being brought into shelters is on the rise, according to one of the UK's leading animal charities.
Blue Cross said it was being "overwhelmed" with the amount of Staffordshire Bull Terriers coming in.
Their records show 331 of the dogs were accepted into shelters last year, compared to 198 in 2008.
They are blaming the increase on dog owners not getting their pets neutered before having accidental litters.
Blue Cross says another problem is people breeding to make money.
However, it says because the dog is so common selling the puppies is often difficult.
The charity says Staffordshire Bull Terriers are often now given to friends for free or advertised on websites for next to nothing.
Hannah Wiltshire, who works at the Burford Blue Cross Shelter in Oxford, said: "There was an advert placed on a website that said basically, 'I would swop my dog for a PlayStation'.
"A big problem is this kind of status dog thing that's going on.
"They are solid, they are a heavy-looking dog, they are very muscular, so they can give off this impression of being a big, tough guy. So they're used a lot with a kind of gang image."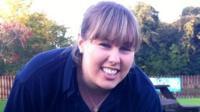 The charity took 3,015 dogs into its shelters in 2012, but had to turn away around 1,800 Staffordshire Bull Terriers last year.
Blue Cross has begun schemes such as Home Direct, which lets dogs be re-homed directly from an owner's house.
They say education is key and they are going into schools to teach children how to look after dogs as well as explaining the responsibilities that can come with owning them.
Follow @BBCNewsbeat on Twitter