Tulisa Contostavlos accepts damages over sex photo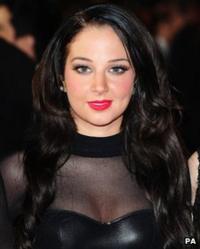 Tulisa Contostavlos has accepted £42,500 damages from news website TNT after it published a still from a sex video which appeared on the internet.
The settlement was revealed during a hearing at London's High Court.
It is looking at legal costs arising from breach of privacy proceedings brought by the singer against a number of defendants last March.
TNT took the photo down as soon as it knew an injunction had been granted but had already received up to 9,000 hits.
Mr Justice Dingemans was told it was the only mainstream publisher to publish a still from the video.
He said that had encouraged people to look for illegal copies of the video.
TNT claimed the still added nothing to the story and the public would have been aware of the video from other coverage.
The judge heard that, after an admission of liability, TNT made an offer of £42,500 compensation, which was accepted.
Although it has since gone into administration, its insurers say they are willing to pay the money.
In July last year, the 25-year-old N-Dubz singer won an apology from her ex-boyfriend, rap artist Justin Edwards, who had initially denied being responsible for the tape appearing on the web.
On that occasion, solicitor Jonathan Coad told the High Court that the invasion of her privacy was "of the most severe kind imaginable".
He said she had been particularly distressed by the wholly untrue allegation made by people that she was in some way complicit with the release of the footage.
Follow @BBCNewsbeat on Twitter