Justin Bieber 'sorry' over Argentina flag 'disrespect'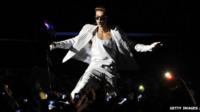 Justin Bieber has apologised to fans in Argentina after he was accused of mistreating the country's flag on stage.
During a concert in Buenos Aires on Saturday he appeared to use his microphone stand to mop the floor with an Argentina flag, which had been thrown at him by a fan.
In a series of tweets the star claimed he thought it was a T-shirt.
"I saw a bra and thought it was a shirt," he said.
"But even if it was a flag I would never do anything to disrespect Argentina."
The singer, who has just finished the South American leg of his Believe tour, added: "People throw stuff on my stage all show and I got it to the stage hands to get off so no-one got hurt.
"I'm sorry if that was taken the wrong way and I'm sorry for my mistake.
"I hope you can accept this and I loved my time there performing for you and look forward to coming back.
"I gave my all and I know the fans did there too."
In Argentina desecrating the national flag is a crime punishable by one to four years in prison.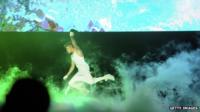 The pop star is said to be taking a few days off before his tour resumes on 18 November in Mexico City before moving on to Australia.
Earlier this month police in Brazil charged Bieber with illegally spraying graffiti in Rio de Janeiro.
The Canadian singer could be fined after pictures appeared in local media to show him painting a wall.
In March, he said sorry to fans for a late start at a concert in London and the following month caused anger with his message in a guestbook at the Anne Frank Museum in Amsterdam, saying he hoped the Holocaust victim would have been a fan - "a belieber".
And in July, Bieber was criticised for touching the biggest trophy in North American ice hockey, the Stanley Cup.
Follow @BBCNewsbeat on Twitter