Strictly's Natalie Gumede has collapse 'wake-up call'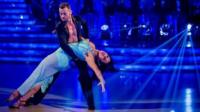 Strictly Come Dancing star Natalie Gumede said her collapse at last week's rehearsals was a "wake-up call" and has vowed to take things easier.
The former Coronation Street actress had to pull out hours before the last live show after fainting twice.
The star, who is one of the favourite's to win, said: "I've never fainted before so it was a new, scary experience."
It is thought she will be fit enough for Saturday's programme.
The 29-year-old added: "It was a hugely unfortunate and disappointing climax to the most dramatic few weeks I think I've ever gone through.
"After seeing a couple of doctors, the verdict was exhaustion and the advice was very common sense based; rest and eat well.
"I was devastated not to perform, as the jive was a fabulous number but health matters above everything else - it was a wake-up call.
"I will take things a little easier."
Gumede said her dance partner, Artem Chigvintsev, was "a tower of strength" for her and is not worried about fainting again.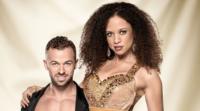 "I think last Saturday was a freak accident that was a result of several weeks of tiredness," she said.
"I'm feeling really refreshed and I won't allow that to happen again.
"All the support we have been receiving is mind-blowing.
"Despite all the drama with my back and fainting I'm having the time of my life and my responsibility is to get out there and give it my all because the fans are so incredibly supportive."
The star will return on this week's show at Blackpool's Tower Ballroom.
She says she's looking forward to the experience.
"I'm from Lancashire and we used to go to Blackpool as kids," she revealed. "It's close to home and it's going to be really emotional to perform there.
"It's a stunning venue, it's the home of ballroom and I am honoured to be dancing there."
Follow @BBCNewsbeat on Twitter