Government targets intern employers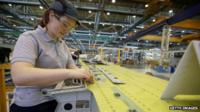 HM Revenue and Customs (HMRC) is targeting 200 employers who recently advertised internships to check they are paying people properly.
The agency, which is responsible for enforcing the national minimum wage, will carry out "targeted checks".
The move comes as the government outlines new guidance to young interns to ensure they are properly paid.
Jo Swinson, the Minister for Employment Relations, has explained the main aims of the new guidance.
"The guidance should make it clearer, both for young people and employers, what the law says about when you need to paid the national minimum wage," said Jo.
In April 2011, deputy Prime Minister, Nick Clegg told Newsbeat he wanted to end unpaid internships.
When asked why it's taken so long for the new guidance to come in to place Jo said: "There has been a lot of progress. In 2012-13, 736 employers were found guilty of not having paid enough minimum wage and they had to pay back arrears to the staff and fines on top."
Jo added that information will be made more accessible by being put online and on posters in universities and colleges.
Luke in Cambridge texted Newsbeat to say his unpaid internship led to a good job and asked whether the government plans would stop companies offering work experience to young graduates.
"No they shouldn't stop companies offering work experience. Internships can be a really great start in somebody's career," said Jo.
"But if you're being treated as a worker then you should be paid as a worker, at least the minimum wage.
"We want to make sure people still have exciting opportunities but there also isn't exploitation going on."
The MP added that HMRC would be able to "name and shame" companies found to be not paying the minimum wage in the next few months.
Follow @BBCNewsbeat on Twitter