Chris Brown countersues man over Hollywood studio fight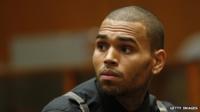 Chris Brown is countersuing a man who accused his entourage of attacking him outside a recording studio earlier this year.
The R&B singer, 24, filed an assault and battery lawsuit against Sha'keir Duarte on 6 November.
In a previous lawsuit, Duarte claimed he was injured in a fight between the entourages of Brown and Frank Ocean in January outside a studio in Hollywood.
Duarte sued Brown in August, saying the singer had started the fight.
However, Brown's countersuit accuses Duarte of causing the fight after he pushed, kicked and punched the singer.
He also said Duarte had threatened to kill him and wants damages.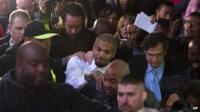 Duarte's attorney Joseph Porter III is yet to make a comment.
No criminal charges were filed over the fight, but Brown may face jail after being arrested last month in Washington DC for allegedly punching a man outside a hotel.
Brown spent a day in custody and faces a misdemeanour battery charge over the incident.
The star is due back in court on 25 November.
Brown is still on five years' probation after attacking his ex-girlfriend Rihanna in 2009 before the Grammy music awards.
The R&B singer checked into rehab for anger management issues on 29 October.
Follow @BBCNewsbeat on Twitter