Bestival organiser 'envious' of Glastonbury selling out
8 November 2013

From the section

Music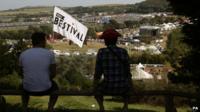 One of the men behind Bestival, Rob da Bank, says he's jealous about how quickly Glastonbury festival sells out.
Last month, Glastonbury organisers said 120,000 tickets for next year's festival sold out in a record time of one hour and 27 minutes.
The Bestival organiser and Radio 1 DJ said: "I'm very envious of Glastonbury who can go and sell all their tickets in 20 minutes.
"I'd love that, it would take so much pressure off."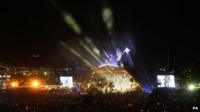 In 2010, Glastonbury celebrated its 40th anniversary.
Bestival started in 2004.
Rob da Bank, who runs the event with his wife Josie, said Glastonbury's age and history helps it to sell tickets.
"Give it another 30 years and we might be doing that as well," he said.
"Competition every year has been more intense and people's budgets are stretched.
"It's never easy. You never come out of a show and go, 'Alright cool, we can just sell the tickets'."
Both Bestival and Glastonbury are nominated for best major festival at this year's Festival Awards.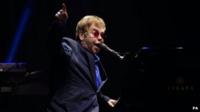 Sir Elton John's set at Bestival is joined by shows by Arctic Monkeys and The Rolling Stones on Glastonbury's pyramid stage in the best headline performance category.
Although neither festival has announced next year's line-up, Glastonbury organiser Michael Eavis recently told Newsbeat that he'd already booked the acts for 2014.
However, he also added that he didn't think this year's line-up could be topped.
"I'm not going to say we can do it better because we can't, that was the ultimate festival this year," he said.
Meanwhile, Rob da Bank is organising a new electronic festival, Leaf.
He's also working on the music for a new BBC drama.
"Bestival's a beast, it doesn't stop," he said. "I've got lots of different things going on but it's all manageable.
"I'm going to take the day off on Christmas Day and possibly Boxing Day."
Tickets for Bestival 2014 are on sale now.
Follow @BBCNewsbeat on Twitter.