Mental health counselling site opening up to over 18s
6 November 2013

From the section

Health
For as long as she can remember, Jessica has been mentally ill.
The 16-year-old suffers from panic attacks and depression and says it's had a huge impact on her life.
"Often it means you can't get out of bed in the morning. A lot of people think that's a load of rubbish, but it's physically paralysing.
"Things like going to the cinema or concerts are almost impossible because I can't predict when I'm going to have a panic attack."
This means she spends a lot of time at home in Cheltenham.
Jess has signed up as a mentor on the MindFull website, and has been volunteering by giving advice and support to other young people online.
"It's quite nice to know the person you're speaking to has been through it themselves, so they understand what you're going through and won't be flippant or dismissive."
The site launched in July for 11 to 17-year-olds, but will soon be open to 18 to 25-year-olds after being given another £500,000 by the government.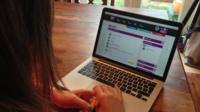 'Incredibly tough'
Chris Leaman from the charity Young Minds says MindFull is "brilliant" but won't solve wider problems by itself.
In March, figures released to Newsbeat revealed cuts to local mental health services across England.
"It's harder to do online treatment for the more serious cases, so yes MindFull will be saying actually 'let's get you in touch with a local service'," says Chris.
"Those services are finding it incredibly tough. There's massive budgetary pressures and an increase in demand."
Youth minister Nick Hurd insists MindFull shouldn't be seen as a cheaper replacement for face-to-face counselling and therapy: "This must be seen as complimenting the support that's available through the NHS.
"We all know there's pressure on money, but mental health is a growing issue and we want to support people at a younger age."
'Snide comments'
The government has spent £50 million on talking therapies, although Young Minds warns it will take more than this to reverse "decades of underinvestment".
Jess says until recently her own experience of seeking treatment has been "really negative", which she puts down to a lack of funding.
She's worried things won't change until education is better: "In school we never learn about mental health even though its the illness you're most likely to get as a teenager.
"Some of my friends have been great and treated me in the way they would if I was physically ill.
"Others, who I probably wouldn't describe as friends any more, have made snide comments about it."
Follow @BBCNewsbeat on Twitter