One Direction 'most influential celebrities on Twitter'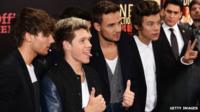 One Direction have been named the most influential celebrities on Twitter.
The boy band members make up the top five spots in a new chart of influential UK Twitter users created by PeerIndex, with Liam Payne coming out on top.
Harry Styles is number two, followed by Niall Horan, Louis Tomlinson and Zayn Malik finishing up in fifth place.
Ed Sheeran, David Cameron, Piers Morgan and Stephen Fry are also in the top 10 on the list.
The new table is based on analysis of more than 10 billion tweets from 150 million people.
It focuses on the influence users have on fellow Brits rather than just the number of followers a user has.
The amount of interaction they generate with other people, including the number of mentions and retweets, was also taken into account.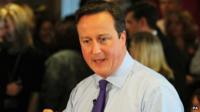 However, PeerIndex founder Azeem Azhar said the research took note of who users were interacting with as well.
He said that the One Direction members have far more followers, with more than 10 million between them, than the likes of David Cameron, who has just under 500,000 followers.
But Azhar said the prime minister got the attention of high-profile journalists and international leaders, which helped him earn his position on the list.
Feminist author Catlin Moran also made the top 10.
Each user was given a score out of 100 based on their influence to place them on the index.
The top four all earned 98.
Azhar told Newsbeat that if American users were included in the research then Lady Gaga would have scored 95, the same as Labour party leader Ed Miliband (29th) and Justin Bieber would have topped the list.
Olly Murs, Jessie J and footballer Joey Barton were also in the top 20.
Radio 1 Breakfast Show host Nick Grimshaw is 36th on the list, three places behind Chancellor of the Exchequer George Osborne.
Follow @BBCNewsbeat on Twitter