Young domestic abusers need better support, say experts
1 November 2013

From the section

Health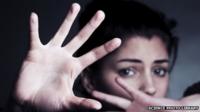 A new approach is needed to stop teens committing domestic violence, according to a group of experts.
A study from Manchester University calls for a national mentoring programme for young people at risk of becoming abusers.
It also recommends lessons on domestic violence prevention for everyone in schools.
The government says it expects the subject to be taught "as part of sex and relationship education".
A Home Office spokesman also said that it had guaranteed nearly £40 million to help fund domestic and sexual violence support services.
More than half of the 1,200 13 and 14-year-olds questioned by researchers said they had experienced domestic abuse, either as a victim, witness or perpetrator.
A quarter said they had also carried out at least one abusive act against a boyfriend or girlfriend, ranging from hitting or shoving to trying to control the partner emotionally.
Ever alright?
In Manchester city centre, Newsbeat asked a group of 16-year-olds a simple question, 'Is it ever OK to be violent to a boyfriend or girlfriend?'
"Yes," says Rawand.
"It depends," says Owen. "If a girl hits a guy that's alright.
"There's no point being in a relationship with someone if you don't trust them. Your girlfriend should be your best mate."
Simon adds: "It depends where she hits him."
Professor David Gadd, who led the three-year study, says the attitudes are both common and worrying.
He says: "Young men tend to see domestic abuse as a fight that got out of hand.
"Many will feel that some of the blame, or all of the blame, is not theirs."
'Safe relationships'
In September, Newsbeat spoke to pupils attending domestic violence lessons at Abersychan School in Pontypool.
At the time, the Department for Education said it had no plans to make such classes compulsory.
Responding to the study, the Home Office said: "The government also expect teachers to ensure all pupils develop an awareness of the issues around physical violence and abuse as part of sex and relationship education.
"We are producing materials around the This is Abuse campaign which will support this work.
"We want to see young people in safe and happy relationships and this means tackling abusive attitudes at an early age."
'Lethal violence'
Manchester University researchers also spoke in-depth with 30 men aged 16 to 21 who they knew had some experience of abuse.
Professor Gadd says: "There are 16, 17, 18-year-old young men who are already committing very lethal forms of domestic violence on a repeat basis."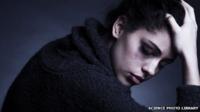 But he admits support services are "patchy" and should be replaced with a national network of mentors working long term, and one to one, with young people at risk of offending.
Professor Gadd says he is not confident about his idea ever becoming reality because he says public spending is being tightly controlled.
"It doesn't make you very popular to say we need to spend more money on domestic abuse perpetrators," he ends.
Follow @BBCNewsbeat on Twitter