Paul Hollywood: Great British Bake Off furore a joke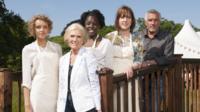 Paul Hollywood has said the "furore" around the final of this year's Great British Bake Off was a "joke that got out of control".
He had been accused of favouring 21-year-old contestant Ruby Tandoh, who was also criticised for becoming too emotional.
"I have no idea where it came from," he said.
"It was a bit of a ploy to get people interested, as if we needed it. We still had a lot of people tuning in."
She later wrote in the Guardian newspaper: "I am tired of defending myself against the boring, inevitable accusations of flirting with Paul Hollywood, of emotionally manipulating the judges and of somehow surfing into the final on a tidal wave of tears."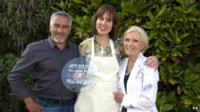 Hollywood said he always focused on the bakes, rather than the contestants themselves.
"I only judge what's on the plate," he said. "I don't care who's standing in front of me.
"At the end she [Frances Quinn, the winner] nailed it."
On Wednesday the 47-year-old told BBC Radio 5 Live's Richard Bacon that his affair with a US TV presenter was the "biggest mistake" of his life.
"I still love my wife," he said. "We are talking, working together but it's going to take time.
"I was shocked about the whole thing kicking off the way it did but I deserved it and I've taken it. It was my punishment."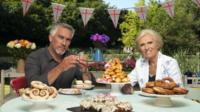 In addition to the Great British Bake Off Masterclasses, which he is presenting this week alongside Mary Berry, he also has a new television series, Pies & Puds.
It starts on BBC One on 4 November, with a book of the series out now.
"There are a few things in Pies & Puds I am going to push to be a [Great British Bake Off] technical challenge next year," he said.
The TV baker also said he was aware of how much he was on screen at the moment.
"Baking is very cool at the moment and so therefore anything baking is going to get on the television or on the radio or in books and so I'm happy to do that because I love imparting information. Likewise so does Mary.
"There is a bit of a break between January and August so you won't need to listen to us again for a while."
Paul Hollywood's Pies & Puds is published by Bloomsbury and out now.
Follow @BBCNewsbeat on Twitter