Chris Brown checks into rehab following assault charge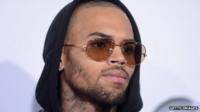 Chris Brown has checked into a rehab facility in Malibu, Los Angeles.
A representative for the singer announced that Brown, 24, decided to go to a clinic to "gain focus and insight into his past and recent behaviour".
It comes a day after he was released from jail following his arrest after a man accused him of punching him in Washington DC.
The singer is on five years' probation for attacking his ex-girlfriend Rihanna in 2009 before the Grammy Music Awards.
The representative's statement added that rehab would help the singer "continue the pursuit of his life and his career from a healthier vantage point".
Brown's attorney, Mark Geragos, said the singer checked in at an unspecified facility to be treated for anger issues on Tuesday.
"He just decided he wanted to take some time off and do some introspection," he said.
The lawyer added that Brown's decision to enter rehab was not an acknowledgement of wrongdoing in the Washington case.
On Tuesday night the Grammy Award-winning singer tweeted: "In order to go where u have never gone u have to be willing to go where u never been!!!!"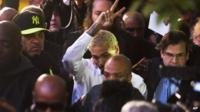 The singer and his bodyguard were arrested early on Sunday morning after getting into a row at The W Hotel in Washington.
According to court documents, the man told police he'd tried to push his way into a picture Brown was taking with a woman and her friend.
Parker Adams, 20, from Maryland, claimed he was punched by both Brown and his bodyguard Chris Hollosy before Brown boarded his tour bus.
The star is due back in court on 25 November.
Brown was initially charged with felony assault, which was reduced to a misdemeanour on Monday.
He was then released from jail.
Brown was cleared of hit-and-run charges in August after the judge ruled the singer and a woman, whose Mercedes he hit with his Range Rover, had reached an agreement over the case.
The singer faces up to four years in prison should a judge decide to revoke his probation again.
Probation officials would need to investigate the new arrest for it to become an issue in California, which could happen before Brown's next probation progress hearing on 20 November.
Follow @BBCNewsbeat on Twitter