Orlando Bloom and Miranda Kerr confirm separation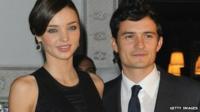 Orlando Bloom and Miranda Kerr have announced they are separating after three years of marriage.
In a statement released to E! News a representative for the British actor confirmed the split.
"In a joint statement, Orlando Bloom and Miranda Kerr have announced that they have been amicably separated for the past few months.
"After six years together, they have recently decided to formalize their separation."
The pair were married in 2010 after dating for three years and they have one son, Flynn, who was born in 2011.
Bloom rose to fame with his role as Legolas in the Lord of the Rings films. He has also starred in the Pirates of the Caribbean movie franchise, as well as Troy, Kingdom of Heaven and The Hobbit, where he reprised his role as Legolas.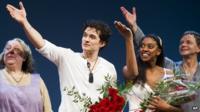 The 36-year-old is currently performing in New York in a stage production of Romeo and Juliet.
"When I saw Orlando on Broadway in Romeo and Juliet, I was blown away," Kerr said in the November issue of Cosmopolitan.
"For someone to be able to learn all that and hold the energy to do it every day, six days a week - I have so much respect for him.
"We don't run lines though. We keep that very separate. That would be like me asking him to teach me how to catwalk."
Kerr, 30, is an Australian model who has worked extensively with Victoria's Secret lingerie brand.
Earlier this year Forbes revealed she was the second highest-earning model, beaten only by Gisele Bundchen and taking home an estimated $7.2m (£4.6m).
Follow @BBCNewsbeat on Twitter