Mercury Prize 2013 contender: Rudimental
25 October 2013

From the section

Music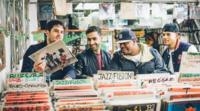 The band
Rudimental are a jungle collective from Hackney, east London, signed to Warner Music.
They decided not to have a frontman as they say their formula proves you don't need it, instead they bring in guest vocalists.
The four piece can take responsibility for discovering John Newman singing in a pub.
He went on to feature on their number one single Feel The Love.
From there, they went to play sold out shows and found themselves on the bill for Jay Z's festival, Made in America.
"Beyonce has heard Feel The Love, apparently and she loved it," Piers Agget told Newsbeat.
"It's been a crazy year, we started off with our number one, Feel The Love, now we're not at home, just all day on the road, it's just crazy."
The album
Rudimental are nominated for their debut album, Home, which was released in April this year and charted at number one.
It is one of five debuts and number one albums to be shortlisted for the Mercury Prize.
It was recorded in their Major Toms studio in east London and features many guest vocalists including Emeli Sande, Angel Haze and John Newman.
"We called the album Home because we knew at the start of making it, we'd be away from home a lot," DJ Leon Rolle told Newsbeat.
"We need to take that on stage and we did that.
"We create that special atmospheric moment on stage, it's just an amazing feeling to be playing in front of so many people," he explained.
"We put a lot of effort into this album and we wanted to prove we weren't just a singles act."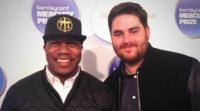 What the judges say
"It seems to be a wonderful record of people showing off how good they are," Simon Frith, head of the judging panel told Newsbeat.
"This is praise rather than criticism.
"From track to track you are just endlessly intrigued by the cheek of it really," he continued.
"In the sense of how they present themselves, how they work together, how they make classic contemporary dance floor sounds.
"But with the sort of sense of thrill that they've got the chance to do it and makes it thrilling to listen to."
The odds
Rudimental appear to be outsiders for the Mercury Prize.
They odds vary from 20/1 to 33/1 with only Villagers and Jake Bugg with higher odds.
The winner will be announced on 30 October at a ceremony at London's Roundhouse venue.
Follow @BBCNewsbeat on Twitter