Joseph Gordon-Levitt denies profiting from ideas site
Joseph Gordon-Levitt has denied a website he created is an easy way to profit from other people's ideas.
The Hollywood actor launched hitRECord in 2010, an open collaborative platform that allows users to upload and edit material.
"People who contribute to any production of ours that ends up making money get paid," he said. "The profits get split in half.
"The artist on the site that makes the most money is a guy from the UK."
hitRECord allows users to post songs, animations, short stories and films.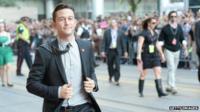 Other people using the website can then edit or add to the original material.
For example, people can add a beat to a vocal recording or create a music video for a completed song.
The 32-year-old said he believed that the future of the industry would see people not just wanting to view film and TV shows but to be able to help make them too.
In early 2014 the star will launch a new television show that will only feature content generated by the hitRECord website.
"In the 20th century, media was something that was very much one-sided," he said.
"A small clique of an industry made everything and then everybody else had to watch or listen, passively."
Joseph Gordon-Levitt claims advances in technology and the changing ways in which people watch TV shows and films are forcing the change.
"Now with the internet people can participate and raise their own voice and be a part of it," he said.
"It's becomes more conversational and communal and that's great."
Gordon-Levitt has appeared in films alongside Leonardo DiCaprio, Bruce Willis and Christian Bale and created the company with his brother Dan Gordon-Levitt, who died in October 2010.
His film credits include Looper, Inception and The Dark Knight Rises.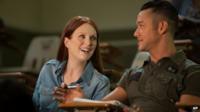 At a cafe in North London sits Wirrow, not his real name, the man Gordon-Levitt was referring to as the UK user who has made the most money from using the site.
"I love writing stories, I really like animating and I like making music as well," he said.
He has been using the site for three years and Joseph Gordon-Levitt estimates the Londoner made more than £30,000 in 2012.
Material he's uploaded has appeared on the poster at a music festival and he's also had a series of stories published.
Most recently Wirrow worked on the special effects for a feature-length film.
He says he doesn't believe he's getting an unfair deal having to split the profits in half with the website's founder.
"They are very open with the finances," he said. "You know how much I made which is very weird for any company. I guess I just trust them."
Follow @BBCNewsbeat on Twitter