One Direction top under-30 rich list for first time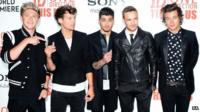 One Direction have topped a list of richest British celebrities under 30 for the first time.
As a group they have reached number one on Heat magazine's chart of rich, young celebrities, having amassed an estimated fortune of £59m between them.
It is the first time the list, launched in 2010, has not featured Harry Potter actor Daniel Radcliffe in the top spot.
He is in second place with an estimated fortune of £56.19m.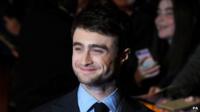 One Direction were included as a single entry for their total earnings, rather than individually, because the money has been generated by the group rather than for any solo work.
They are soon to release their third album Midnight Memories.
The highest new entry is DJ and music producer Calvin Harris who was number eight in the list.
He recently topped Forbes' list of highest-paid DJs, beating the likes of Tiesto, David Guetta and Avicii.
Industry experts looked at record sales, film and television earnings and product endorsements to compile the list.
Paulo Nutini, Jamie Bell, Natasha Bedingfield and Sienna Miller all fell out of the top 30 list.
Follow @BBCNewsbeat on Twitter