Apple suspends HMV iPhone app from AppStore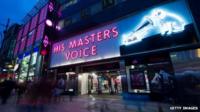 Apple has suspended the new HMV iPhone app days after its release.
On Monday HMV's owner, Hilco, said Apple wanted the retailer to remove a feature which allowed users to download music, giving them until 6pm that evening to make the changes.
HMV chairman Paul McGowan said Apple had "approved the exact same version" last month and was unable to explain why they had changed their minds.
Apple confirmed the app was removed for violating App Store guidelines.
In a statement Hilco said: "HMV stressed that Apple's removal of the app only prevents further iPhone users from downloading the app and those who have already downloaded the app will continue to be able to use the app as before and will not notice any changes to the experience."
They said the app has been downloaded more than 10,000 times since it was released on 17 October.
"HMV's developers are working around the clock to deliver an updated version of the iOS app for Apple's approval," the company added.
Hilco claimed Apple had earlier approved the app but then raised concerns the day after it became available.
HMV launched the iOS app alongside an Android version, both allowing users to identify songs using image and sound recognition software.
Restructuring company Hilco bought HMV in April, after it fell into financial trouble earlier in the year.
The HMV app was seen as a potential challenge to Apple's iTunes service, Amazon and others.
"It's about the fact that there were two hundred million digital downloads last year and HMV didn't have one of those," said James Coughlan, managing director of HMV Digital.
In February, Apple announced it had sold 25 billion songs via its iTunes store.
Follow @BBCNewsbeat on Twitter