Mercury Prize contender 2013: Jon Hopkins
22 October 2013

From the section

Music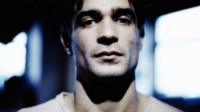 The artist
Jon Hopkins started his career as a keyboardist with the singer songwriter Imogen Heap.
He went on to produce albums for Coldplay and Brian Eno before releasing his own music.
The electronic musician composed the soundtrack to the film Monsters and was nominated for an Ivor Novello award.
This is his second nomination for a Mercury Prize, having been shortlisted in 2011 for his album with King Creosote called Diamond Mine.
The album
Immunity is Jon Hopkins' fourth solo album and was released in June 2013.
He worked with King Cresote again on this record, using his vocals.
"This one is kind of the raviest things I've done," Jon Hopkins said about the album.
"It's far more upfront electronic. Maybe that's what's helped it connect with people.
"I spent a good nine months on this so it's very nice to have it out there and have people appreciate it," he continued.
"I made this album, it's very instrumental, underground electronic, not expecting it to be picked up at all, so it's been very exciting."
What the judges say
"It's an electronic album, it's an instrumental album that tells a story but does it entirely through sound effects," the head of the judging panel Simon Frith told Newsbeat.
"It is almost like a combination of sound design and film music soundtrack.
"In a sense it's the sort of music that is sometimes thought of as background music because it's got no voice to grab you.
"But it's the opposite in a sense - to listen to this - you find yourself being drawn into it.
"It manages to make the movements between delicacy and aggression that is just incredibly effective."
The odds
Jon Hopkins seems to be the one the bookies all agree on.
He might not be their favourite but they are offering odds of 10/1.
However, instrumental albums have not done well historically at the Mercury Prize.
The winner will be announced on 30 October at a ceremony at London's Roundhouse venue.
Follow @BBCNewsbeat on Twitter