Thor actor Tom Hiddleston does '99.9% of all stunts'
Hollywood actor Tom Hiddleston says he does "99.9% of all his stunts" in the forthcoming film Thor: The Dark World.
The 32-year-old, best known for his role as Loki in the film, came in to Newsbeat to answer fans' questions.
The second movie in the Thor series is out in cinemas next week.
Here Tom Hiddleston responds to questions from Newsbeat followers on Twitter using #askloki.
@JadeDownpour: Do you believe Thor is the light in Loki's darkness?
Tom: "Great question. Yes. They define each other by opposition. Yin and yang."
@Nindi_T: How do you feel about your rock star status? Did you think it'd be like this?
Tom: "Absolutely not."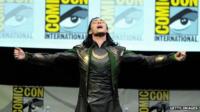 @NicoleStrassman: Do you do your own stunts?
Tom: "99.9% of all my stunts in the movie, I do myself."
@QueenSerenity42: What does @twhiddleston do on a day off?
Tom: "Good breakfast, table tennis, run in the park and a good movie."
@susi079: You like singing and dancing, like to be in a musical?
Tom: "Love dancing, not so good at singing. I'd love to be in Guys and Dolls."
@OhHeyBlackwood: Time in costume? acting advice?
Tom: "12 hours on set, 30 minutes to get ready. Advice: 'tell other people's truths' from Breaking Bad actor Bryan Cranston."
Follow @BBCNewsbeat on Twitter