SNP gathering a platform for Scottish independence push
17 October 2013

From the section

Politics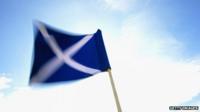 The Scottish National Party (SNP) refer to 18 September 2014 as Scotland's date with destiny.
Voters will choose whether they want to stay part the United Kingdom, or go it alone as an independent country.
The date next year is ingrained in the minds of SNP supporters gathering for their annual party conference in Perth.
Polls suggest most people would choose to stay in the UK, but that many voters haven't yet completely made up their minds.
Many will see media attention at this weekend's conference, starting on Thursday, as an opportunity to try to win over some of those undecided voters.
Chris Smith, 22, rigging a marquee for the conference organisers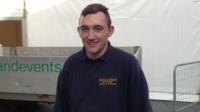 "I think it [an independent Scotland] would struggle. We'd have to pay for our own NHS and everything.
"I don't know how we'd get by. A few people have said that it's going to go pear shaped. We'll just have to wait and see."
Andrew Fulton, 22, conference security guard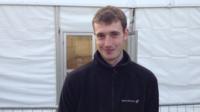 "I don't know how I'm going to vote. I haven't really thought about it that much.
"I would like to give it [independence[ a go though. I think a lot of people would as well.
"I think a lot of people sway towards independence, purely because we're so proud of being Scottish, and to get away from England."
Connor Robson , 19, part-time cleaner and Bobby Jordan, 18, a roofer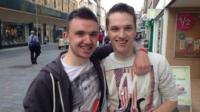 Connor says: "It would be like a divorce. If we leave the UK, no-one's going to help us out. We'd be on our own.
"I've got a part-time job as a cleaner. If independence means the economy gets worse and I lose that job, I'm done for."
Bobby says: "I'd rather be independent. I don't want England to help us out, I'd rather we do it ourselves if that makes sense.
"I don't want anyone else to help me out. It will be difficult but we have to see what happens. I just want to try it."
Susanna Murdoch, 26, a seamstress and Sami Kelly, 25, a hairdresser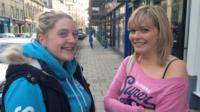 Susanna (left) says: "I think Scotland can sustain itself. I'm all for free tuition fees and free prescriptions.
"My problem though is that we get lots of people coming up from England to use that too.
"I think the SNP needs to look more closely at that."
Sami (right) says: "Scotland has a lot of help at the moment, with your free prescriptions.
"I used to live down in England and I used to have a lot of problems. It cost so much to keep my health, so I'm pleased the SNP brought in free prescriptions.
"I think Britain as a whole needs to stick together though. If Scotland went its own way, we'd have a lot of problems I think. I don't think we're strong enough."
Follow @BBCNewsbeat on Twitter