Vinyl sales at highest level for more than a decade
17 October 2013

From the section

Music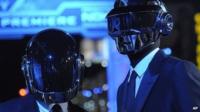 Daft Punk, Arctic Monkeys and Vampire Weekend have helped vinyl records achieve their highest sales figures for more than a decade.
Figures from the British Phonographic Industry (BPI) show almost 550,000 LPs have been sold so far in 2013.
It is still a small amount compared to downloads and CD sales, accounting for 0.7% of all albums sold.
"We're witnessing a renaissance for records," the BPI's chief executive Geoff Taylor explained.
"They're no longer retromania and are becoming the format of choice for more and more music fans. Vinyl sales are growing fast."
Record Store Day, the annual celebration of independent record shops, is credited with driving the surge in sales.
This year it was held in April and generated £2 million in sales.
It saw Biffy Clyro, Tom Odell and Chvrches release limited edition albums.
Sales of vinyl albums have doubled in 2013 so far in the UK.
"Record Store Day has been incredibly important as a catalyst for the resurgence of vinyl," said Kim Bayley, who organises the event.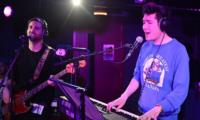 "The fact that indie record shops managed to sell £2m worth of vinyl in one day puts paid to the idea that either vinyl or record stores themselves are on the way out."
A lot of artists insist on putting their music out on vinyl, even though it can be expensive.
Bastille began by releasing 300 copies of their first single, Flaws, on a seven-inch record.
"It was just so nice to have that physical thing, so ever since then we've released all of our singles on vinyl," explained frontman Dan Smith.
"There's something intrinsically nostalgic about it.
"I guess in an age when people don't even consider buying music they just download it or stream it, it's nice to have something physical."
It isn't just the older generation of music lovers who grew up with vinyl records that are still buying them.
Earlier in the year, research showed under-25s had been the driving force behind the surge in sales for vinyl records over the past five years.
Research by ICM suggested 18 to 24-year-olds were buying more vinyl records than any other age group under 50.
That is something Dan Smith has noticed too.
He said: "It's nice with our younger fans, seeing messages saying, 'We bought your album on vinyl and then we went out a bought a record player.'"
Follow @BBCNewsbeat on Twitter