Mercury Prize contenders 2013: Foals
17 October 2013

From the section

Music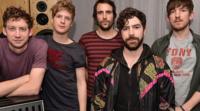 The band
Foals are made up of five friends from Oxford who began life playing at squat parties in the city.
Their debut album Antidotes was released in 2008 followed by Total Life Forever, which earned them their first Mercury Prize nomination.
Since then, they've played the Royal Albert Hall, toured the world and took their first UK festival headline slot at Latitude this year.
"There's something to be said for taking your time," said frontman Yannis Philippakis.
"Earning those sorts of things rather than them just falling in your lap on day one."
The album
Holy Fire was preceded by the lead single Inhaler which perhaps indicated a change was afoot for the Oxford group.
"Me and Jack Bevan [drums] were in a band when we were younger," explained Philippakis.
"It was heavy riffs all the way through. We hadn't explored it for such a long time that it became interesting again.
"The heavier bands which I grew up listening to were Slayer, Deftones, Tool, Black Sabbath. Obviously Rage [Against The Machine]. Everyone loves Rage."
The reviews were largely positive with many predicting this would be the album to take them further into the mainstream.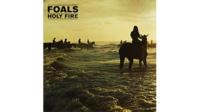 What the judges say
"I always find it slightly miraculous that you can have a band that is very interesting and ambitious," said Simon Frith, head judge for the Mercury Prize.
"You like their music and you can see what they are trying to do and you honour that.
"Then they make a record that is as if everything they ever wanted to do comes together.
"They managed to put together a fantastic rhythm section that they've always had, a sort of dramatic singer.
"But they integrated that with a sense of melody and a sense of sound but particularly a sense of dynamism which just knocks you out."
The odds
Foals appear to be just outside the top three favourites, according to the main bookmakers with odds of 8/1 and 7/1.
If they win this year they will join the likes of Elbow and Pulp, picking up the £20,000 prize on their second nomination.
The winner will be announced on 30 October at a ceremony at London's Roundhouse venue.
Follow @BBCNewsbeat on Twitter