The Harry Hill Movie gets 20 December UK release date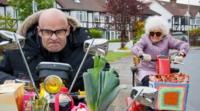 The Harry Hill Movie will be released in the UK on 20 December.
Matt Lucas appears in the film as Hill's evil twin, while Julie Walters plays his petrol-drinking grandmother.
The plot follows the comedian on a road trip to Blackpool after he finds out his pet hamster only has a week to live.
The Harry Hill Movie also features Inbetweeners star Simon Bird as a lunatic vet and Julian Barratt from the Mighty Boosh.
In the film, Hill falls in love with an undersea shell person, played by Sheridan Smith, and meets indie rock band The Magic Numbers who run a B&B.
The plot also sees the comedian being attacked by chickens with machine guns and culminates in a fight on top of the Blackpool Tower.
Marc Wootton and Jim Broadbent also appear in the movie, which is said to based on a true story about Harry Hill's ill pet.
"I can't wait for everyone to see my movie in December," said Hill. "It's full of all the traditional festive family fun - evil twins, brains with legs, giant hamsters & chickens with guns."
Filming for The Harry Hill Movie took place in various locations across the UK.
The film is directed by Steve Bendelack, who was in charge of Mr Bean's Holiday and is financed by Entertainment Film Distributors.
Follow @BBCNewsbeat on Twitter