Ashton Kutcher is the best paid actor on US television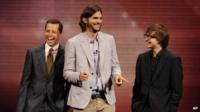 Ashton Kutcher was the best paid actor on US TV for the second year running, having earned an estimated $24m (£15m) for his role in Two and a Half Men.
Not only did he replace Charlie Sheen in the lead role on the hit show, he also took his place at the top of the Forbes TV earnings list in 2012.
His co-star Jon Cryer jumped from seventh to second, earning $21m (£13m).
Last year Sheen, who was fired from the CBS show, did not earn enough to get into the top 10.
This year his role in Anger Management saw him make it to joint ninth, with $10m (£6.3m).
Twenty-year-old Angus T Jones, who also stars in Two and a Half Men as Jake Harper, made the list taking home an estimated $11m (£6.3m).
One of those who fell out of the Forbes list was British actor and comedian Hugh Laurie, who last year earned $18m (£11m) for his lead role in House.
To make the list Forbes estimated the entertainment-related income of celebrities between June 2012 and June 2013 by talking to agents, managers, producers and executives.
Grey's Anatomy star Patrick Dempsey, Dexter's Michael C Hall and Mark Harmon of NCIS also feature in the top 10.
Follow @BBCNewsbeat on Twitter